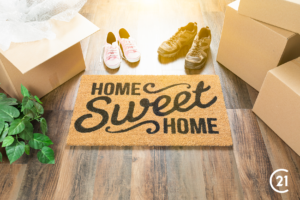 The home buying process can be stressful and intimidating, especially for first-time buyers, but the experts at CENTURY 21 Hawkins and Kolb say there are a few things you can do to prepare for homeownership that will ease the process.
First, get financially prepared.
Spend some time figuring out how much home you can afford. Experts typically recommend your mortgage should not be more than 30 percent of your income. Also, check your credit report to see where you stand. When you're ready to get serious about searching for your next home, contact a lender to get a prequalification letter.
"Sometimes I tell my clients, 'Let's pump the brakes a little bit,'" said Jennifer Hannibal-Felder, a real estate agent with CENTURY 21 Hawkins and Kolb. "You don't want to go out there, fall in love with a house and someone else beats you to it because they are prequalified. You also don't want to waste your time looking at houses that you can't afford."
Next, Jennifer suggests buyers take a hard look at their wish list and begin to narrow it down.
Consider cost, but also think of location, the neighborhood, the type of house, the specifics of a house and then focus on the aspects that are most important to you.
"Look at your wish list and then look at your budget," Jennifer said. "When you're looking at a house and imagining yourself inside this home, you have to also consider the payments – you don't want to live beyond your means. … The goal is to find something that works for you."
Finally, find a trusted real estate professional to help you navigate the process.
One way to find a Realtor is to ask for recommendations from trusted friends and family. You also want to make sure you're comfortable with the agent you choose.
"You want to feel confident in the person representing you," Jennifer said. "They don't just need knowledge of the area and of the buying process, but you want to make sure that you find someone who is in tune with your wants and needs. I always say, "Do unto others as you would have them do unto you." … That's how you know you have the right person!"
Knowing what you can afford, making a wish list and finding a trusted professional can give you a head start on the path of homeownership.